Entryway Gates for Your Home
Secure the entrance of your home with an ornamental iron entryway. When residents need the ultimate balance of security and beauty, they turn to wrought iron entryways. Most of our clients request custom designs, but we also have a huge selection of stock designs. We serve all of Las Vegas, Henderson and surrounding Clark County.
Not only does an entryway add a sense of security, but it also provides protection and a barrier against intruders. At the same time, it has an ornate and beautiful appeal that can complement any home's architectural design.
Benefits of Entryway Gates
Creates a barrier against forced entry
Protects from solicitors and strangers
Provides safety while utilizing the front patio area of the house
Convenient access to outdoor weather
Huge selection of entryway designs to choose from
Long-lasting material under proper care
Custom Entryway Gates
Wrought iron entryways are the best way to protect your home while adding style and beauty to your entryway. At AR Iron, we offer a wide range of stock designs and custom pieces so you can find something that fits your needs.
We serve all of Las Vegas, Henderson and surrounding Clark County. 
Available Colors
We offer over 6,500 powder coat colors to choose from and can match any Homeowner's Association color requirement.
We twist, bend, and forge our custom designs and pickets in-house. If you have a specific idea in mind, we're happy to walk you through the decision-making process to create your custom entryway gate.
Turnaround Time
Nearly any design you choose can be crafted using our sophisticated, software-driven waterjet system. This means that your job is completed and delivered to you quicker.
Inquire about our turnaround times as they vary per job size and current market conditions at the time your order is placed. We also offer custom installation as part of our services.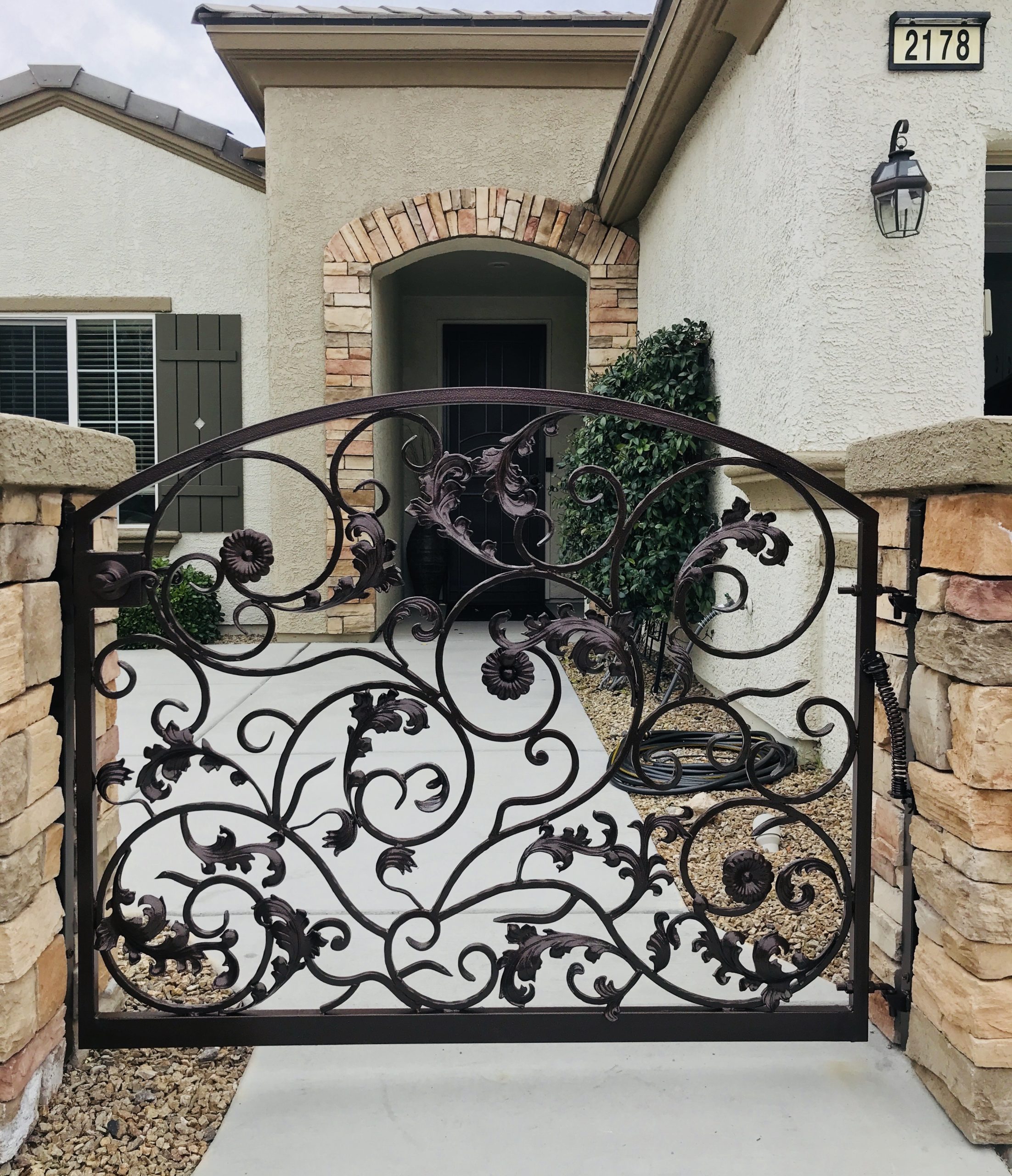 Home Entryway Gate vs Driveway Entry Gate
A home entryway gate and a driveway entry gate are two different iterations of the same concept. They both serve to secure openings to your home and prevent access to unauthorized parties. The main difference between the two is size and material construction: driveway gates are usually much larger than entryway gates, making them suitable for use on very large driveways. 
Wrought Iron Entryway Gates from AR Iron
At AR Iron, we help you create a beautiful home entryway that reflects your personality, taste, and budget. Our friendly and knowledgeable staff is waiting to help you with your project. Call us at 702-789-6513 or fill out the form to request a FREE estimate.
To see more examples of our work please visit our Entryways Gallery by clicking on the button below. 
Get a Free Quote!
Send us a message to request a free quote for that project you have in mind — Commercial or Residential — and let's work together to bring it to reality.